Morris County NJ Weapons Charges Lawyer
Criminal Defense Attorneys with Offices in Morristown, New Jersey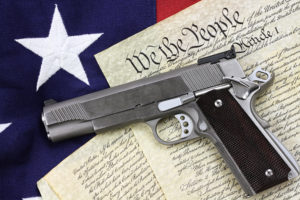 Do not let a gun charge ruin your life. As set forth by the Graves Act, gun charges in New Jersey expose the defendant to significant penalties, including mandatory prison time and parole ineligibility. If you are facing a weapons charge in Morris County NJ, you may be experiencing serious shock. You need legal assistance from an experienced weapons possession defense lawyer. Statistically speaking, having a good criminal defense lawyer on your side might be your only hope of achieving a positive outcome to your case.
The Tormey Law Firm is a criminal defense team of experienced lawyers who know how to get you a win in the courtroom. We know exactly how to defend any gun case. Travis J. Tormey, our firm's founding partner, has a history of achieving favorable results for defendants facing gun charges in New Jersey courtrooms. Our trial team also includes a current Morris County municipal prosecutor. Additionally, one of our skilled attorneys used to serve with the Morris County Prosecutor's Office, where she prosecuted numerous weapons offense cases. Having a current and former NJ prosecutor on staff gives us unique insight into how the other side thinks. We know how to effectively undermine the prosecution's case against you.
Weapons Offense Lawyer in Parsippany NJ
Mr. Tormey has represented thousands of clients in New Jersey courtrooms. Many of Mr. Tormey's clients have faced firearm and weapon offenses, including:
Morris County NJ Gun Possession Lawyer
Our veteran gun crime attorneys are committed to ensuring that your rights are protected throughout the legal process. Based on our years of experience, we have developed a series of advanced defense strategies for gun cases. When you hire the Tormey Law Firm, our attorneys will work tirelessly on your behalf. We will develop a strong and aggressive defense against the charges.
If possible, we will seek to negotiate reduced charges, probation, or another alternative sentencing solution. In certain circumstances, you may be eligible for a diversionary program such as the Pre-Trial Intervention (PTI) program. This will depend on your prior record and the degree of the charges you face. If the case goes to trial, our battle-tested trial attorneys will fight to get you a win in the courtroom.
Contact a Netcong NJ Weapons Charges Defense Attorney Today
Your freedom is at stake. Do not delay in contacting us for a free consultation and case evaluation. You can reach us anytime at 201.355.5385 or toll free at 866.949.6948, or you can use the online contact form to schedule an appointment.