Parsippany Prescription Drugs Lawyer
Drug Charges Defense Attorneys in Morris County, New Jersey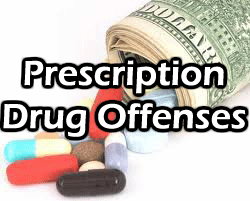 Prescription drug abuse is becoming more and more common in New Jersey. As a result, NJ prosecutors are coming down hard on those charged with prescription drug offenses. Prescription drug crime convictions in New Jersey can have serious consequences, including fines, jail time, and suspension of your driving privileges. It is hard to believe, but possession of even a couple prescription pills without a valid prescription from a physician is usually charged as a felony crime in New Jersey which will be prosecuted by the County prosecutor's office in Superior Court.
The Tormey Law Firm is a team of Morris County criminal defense attorneys who aggressively defend clients facing drug charges involving Xanax, Percocet, Oxycontin, and other prescription medications. If you or a loved one has been charged with possession or distribution of prescription drugs, prescription fraud, or another drug offense in Madison, Roxbury, Rockaway, Denville, Dover, Parsippany, or elsewhere in Morris County, contact us today at (908) 336-5008 for a free consultation, or you can use the online contact form. One of our Morris County prescription drug defense lawyers will listen to the circumstances and your specific case and answer any questions you may have.
New Jersey Prescription Drug Possession and Distribution: N.J.S.A. 2C:35-10.5
In New Jersey, it is illegal to carry prescription drugs and certain medications unless a valid prescription is held. Under N.J.S.A. 2C:35-10.5, possession and/or distribution of prescription drugs is prohibited unless it is carried out by a licensed physician, dentist, veterinarian, or pharmacist. Specifically, the statute makes it a disorderly persons offense to knowingly possess, either actually or constructively, any prescription drug in an amount of four (4) or fewer dosage units, unless lawfully prescribed or administered by a practitioner authorized by law to prescribe medicine. If a defendant is convicted of possession of prescription drugs, he can be sentenced to up to six (6) months in county jail.
If a defendant is found in possession of that same small amount and is considered to have an intent to distribute those prescription drugs, it will be graded as a fourth degree criminal offense in New Jersey. This can subject an offender to a sentence of 18 months in New Jersey State Prison.
If a defendant has a higher quantity of at least five (5) but fewer than 100 units and an intent to distribute, the charge will be a third degree offense. A conviction for third degree distribution of prescription drugs can result in a sentence of five (5) years in NJ state Prison and a fine upwards of $200,000.
An amount of 100 prescription pills or more with the requisite intent to distribute will be considered a second degree offense. A conviction can lead to a sentence of 10 years in state prison and a fine of up to $300,000.00.
Common Drugs Resulting in Prescription Drug Charges in New Jersey
In New Jersey, prescription drug charges apply to certain prescription medications, including:
Am I Allowed to Keep My Prescription Pills Outside the Original Pill Bottle?
No. Under N.J.S.A. § 2C:35-24, you cannot have any controlled dangerous substances (CDS) in anything other than the original container, unless you have no more than a 10-day supply and, upon request of a police officer, present the name and address of the licensed practitioner who prescribed the substance or the pharmacist that provided it. A violation of this statute is a disorderly persons offense in New Jersey, which results in a permanent criminal charge on your record, a fine of up to $1,000, and a sentence of up to six (6) months in the county jail if convicted.
Contact a Madison Prescription Drug Defense Lawyer for a Free Consultation
If you or a loved one has been charged with a prescription drugs offense in Morris County, New Jersey, you may be eligible for the Pre-Trial Intervention (PTI) program or the conditional discharge program in New Jersey, depending on your prior record and the degree of your charges. The skilled Morris County drug crime defense lawyers at The Tormey Law Firm know how to get you admitted in alternative sentencing program and keep you out of prison for your prescription drug offense. Contact our Morristown offices at  (908) 336-5008 for a free consultation about your case, or you can use the online contact form to schedule a no-cost consultation.