Morris County Homicide Defense Lawyer
Murder Defense Attorneys in Morristown, New Jersey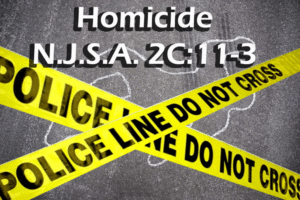 In New Jersey, homicide (commonly referred to as "murder") is the most serious criminal charge covered by the criminal code. When facing a murder charge or a manslaughter charge, it is imperative that you have an experienced criminal defense attorney on your side. The Tormey Law Firm represents clients throughout Morris County and New Jersey, including Dover, Parsippany, Mount Olive, and Morristown. We have successfully defended countless clients who have been charged with serious crimes such as murder (criminal homicide), aggravated assault, kidnapping, and carjacking.
If you are facing murder charges in New Jersey, your freedom is absolutely at stake. It is critical that you have an experienced, aggressive defense lawyer representing your interests at all stages of the criminal process. The Morris County criminal defense attorneys at the Tormey Law Firm will attack the State's case and put you in a position to achieve the best possible result. Contact us anytime at (908) 336-5008 for a consultation, which is provided free of charge, or set up an appointment at our centrally-located Morristown offices.
Murder in New Jersey: N.J.S.A. 2C:11-3
Murder is codified under N.J.S.A. 2C:11-3, which provides:
Criminal homicide constitutes murder when:
The actor purposely causes death or serious bodily injury resulting in death; or
The actor knowingly causes death or serious bodily injury resulting in death; or
It is committed when the actor, acting either alone or with one or more other persons, is engaged in the commission of, or an attempt to commit, or flight after committing or attempting to commit robbery, sexual assault, arson, burglary, kidnapping, carjacking, criminal escape or terrorism, and in the course of such crime or of immediate flight therefrom, any person causes the death of a person other than one of the participants; except that in any prosecution under this subsection, in which the defendant was not the only participant in the underlying crime, it is an affirmative defense that the defendant:
Did not commit the homicidal act or in any way solicit, request, command, importune, cause or aid the commission thereof; and
Was not armed with a deadly weapon, or any instrument, article or substance readily capable of causing death or serious physical injury and or a sort not ordinarily carried in public places by law-abiding persons; and
Had no reasonable ground to believe that any other participant was armed with such a weapon,instrument, article or substance; and
Had no reasonable ground to believe that any other participant intended to engage in conduct likely to result in death or serious physical injury.
Penalties for Homicide in New Jersey
Murder is a crime of the first degree – the most serious under our Criminal Code. Normally, a crime of the first degree is punishable by a period of between 10 to 20 years in NJ State Prison. However, a person convicted of the crime of Murder is subject to a sentence of 30 years to life, with a minimum of 30 years that must be served before the person is eligible for parole. There are a host of circumstances that will subject a person to a sentence of life without parole, including:
If the victim was a law enforcement officer and was murdered while performing his or her official duties or was murdered because of his or her status as a law enforcement officer.
If the victim was less than 14 years old and the act was committed in the course of the commission, whether alone or with one or more persons, of an act of Sexual Assault or Criminal Sexual Contact.
Moreover, there are certain circumstances that mandate serving the sentence in a maximum security prison.
No Early Release Act ("NERA") N.J.S.A. 2C:43-7.2
Under the New Jersey No Early Release Act ("NERA"), codified in N.J.S.A. 2C:43-7.2, the court must impose a minimum period of parole ineligibility of 85% of the sentence imposed. In the past, this designation was reserved for violent crimes, but now the statute enumerates the crimes which are subject to this Act, Homicide is specifically referenced in the statute. More recently, the NERA has been applied to vehicular homicide cases where the operator was found to be driving recklessly causing a death.
Defenses for NJ Homicide Charges
Defending a murder charge is complex, requiring not only legal expertise and experience in handling of the case, but the additional resources of investigators, forensic specialists, jury consultants, and other types of experts. Defenses that are typically offered in defense of a murder charge include:
Self-defense or defense of others
A claim of accidental killing
A claim of insanity
A coerced or false confession
An illegal search or seizure
A mistaken identity
Contact a Parsippany Murder Defense Lawyer for Immediate Assistance
If you find yourself in a situation where you have been charged with a serious criminal offense such as Murder in Morris County, it is important that you seek legal representation immediately. The consequences of a homicide conviction are life-altering. The criminal defense lawyers at the Tormey Law Firm are ready to fight for you. Contact us anytime toll-free at 866-949-6948 to schedule a free consultation with an experienced Morris County homicide defense lawyer.