Morris County NJ Synthetic Marijuana Distribution Lawyer
Drug Charges Defense Attorneys with Offices in Morristown, New Jersey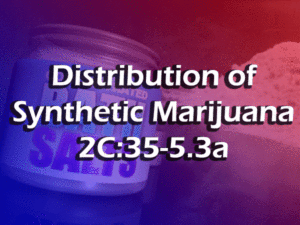 Being charged with possession of Distribution of Synthetic Cannabinoids or Synthetic Cathinones ("Bath Salts" which are man-made chemicals related to amphetamines) can have disastrous consequences on you and your family's lives.
Synthetic drugs are considered to be a Schedule I drug according to the Federal Controlled Substances Act and the Synthetic Drug Abuse Prevention Act of 2012. Most synthetic drugs which are sold to the public are labeled "not for human consumption" to mask their intended purpose and avoid Food and Drug Administration (FDA) regulatory oversight of the manufacturing process. In New Jersey, distribution of these "spices," even though they were once legal, could result in felony-level charges against you.
Having an aggressive, experienced drug crime defense lawyer to guide you through the legal process makes a life-changing difference. The Drug Defense Team at the Tormey Law Firm is prepared to attack the State's case and put you in a position to achieve the best possible result. Our managing partner, Travis J. Tormey, has handled thousands of cases in New Jersey. He has extensive experience representing clients charged with drug-related offenses, including possession of marijuana, prescription fraud, and cocaine distribution. Another one of our partners, Alissa D. Hascup, is a former Municipal Prosecutor, a former Assistant Morris County Prosecutor, and former Special Deputy Attorney General, who has prosecuted hundreds of indictable and disorderly persons offenses in New Jersey during the course of her distinguished career.
If you or a loved one has been charged with Distribution of Synthetic Marijuana in East Hanover, Lincoln Park, Kinnelon, Chester, Morris Plains, Mount Arlington, or elsewhere in New Jersey, contact the Tormey Law Firm at (908) 336-5008 for a free consultation, or you can use the online contact form. The answers you need are just a phone call away.
Synthetic Marijuana Distribution in New Jersey: N.J.S.A. 2C:35-5.3a
On August 22, 2011, Governor Chris Christie signed SCS-28289, which criminalized the manufacture, distribution, sale, and possession of synthetic drugs commonly labeled as "bath salts" or "plant food" in New Jersey. The bill, now known as "Pamela's Law," which was ultimately codified in N.J.S.A. 2C:35-5.3a (manufacture, distribution, and sale) and 2C:35-10.3a (possession) was named in memory of Pamela Schmidt, a Rutgers student and Warren Township resident, who was believed to have been murdered by an individual under the influence of synthetic drugs.
The distribution statute, N.J.S.A. 2C:35-5.3a, provides, in pertinent part:
2. a. It is a crime for any person knowingly or purposely to manufacture, distribute or dispense, or to possess or have under his control with intent to manufacture, distribute, or dispense substances containing: 4-methylmethcathinone (mephedrone, 4-MMC); 3,4-methylenedioxypyrovalerone (MDPV); 3,4-methylenedioxymethcathinone (methylone, MDMC), 4-methoxymethcathinone (methedrone, bk-PMMA, PMMC); 3-fluoromethcathinone (3-FMC); or 4-fluoromethcathinone (flephedrone, 4-FMC).
b. A person who violates subsection a. of this section where the quantity involved is one ounce or more is guilty of a crime of the second degree.
c. A person who violates subsection a. of this section where the quantity involved is less than one ounce is guilty of a crime of the third degree.
The Consequences of Selling Synthetic Marijuana in New Jersey 
As the above statute details, distribution of synthetic marijuana in New Jersey is a serious criminal offense. Ironically, many of these products were sold over the counter at gas stations and convenience stores and were also available for purchase online. As such, we have seen cases of gas station owners being charged with distribution of synthetic marijuana for selling these products over the counter at their stores. Remember, ignorance of the law is no excuse. A second degree crime in New Jersey has a presumption of imprisonment and a term of incarceration of between five (5) and 10 years in state prison if convicted. Conversely, a third degree synthetic marijuana distribution charge has a presumption of non-incarceration and a prison range of three (3) to five (5) years.
Contact a Roxbury NJ Synthetic Marijuana Defense Lawyer for Answers 
If you or a loved one has been charged with Distribution of Synthetic Marijuana or any other Synthetic Drug, you need an experienced drug crime defense attorney who will evaluate the strength of the case against you and any legal issues that may be present. How was the Synthetic Marijuana discovered? Were you stopped in a motor vehicle? Was the stop valid? Did you consent to a search of the vehicle? Was the consent valid? Was it found during an arrest? Was the arrest valid? Our experience in handling these very issues gives us the tools necessary to fight aggressively for you. Contact the experienced drug lawyers at the Tormey Law Firm at (908) 336-5008 for a free consultation.