Morris County Obtaining CDS by Fraud Lawyer
Prescription Fraud Defense Attorneys in Morristown, New Jersey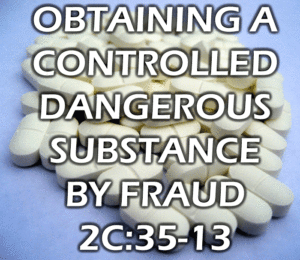 Being charged with Obtaining a Controlled Dangerous Substance (CDS) by Fraud, often referred to as prescription fraud, is a serious crime in New Jersey. Due to that fact that this is an indictable crime, your case will be transferred to the NJ Superior Court in the county in which the crime occurred, and you are exposed to prison time. When facing these charges, you need a skilled and experienced criminal defense lawyer to craft the best defense for your case.
The Morris County criminal defense attorneys at The Tormey Law Firm are prepared to attack the State's case and put you in a position to achieve the best possible result. Our managing partner, Travis J. Tormey, has handled thousands of cases in Morris County and New Jersey, including in Mount Olive, Morristown, Parsippany, Madison, and Randolph. He has extensive experience representing clients charged with drug crimes, including possession of cocaine, possession of CDS in a motor vehicle, and heroin distribution. If you are facing charges for prescription fraud in Morris County, The Tormey Law Firm is available 24 hours a day – 365 days a year to answer any and all questions you have regarding your case. Contact our Morristown offices today at (908) 336-5008 for a free consultation.
Obtaining CDS by Fraud in New Jersey: N.J.S.A. 2C:35-13
N.J.S.A. 2C:35-13 sets forth:
It shall be unlawful for any person to acquire or obtain possession of a controlled dangerous substance or controlled substance analog by misrepresentation, fraud, forgery, deception, or subterfuge. A violation of this section shall be a crime of the third degree.
In everyday language, if you obtain drugs through tricks or fraudulent means, you are subject to prosecution. By statute, Possession is simply: knowing and intentional control of a designated thing, accompanied by a knowledge of its character as contraband. The most common factual scenario is filling a fraudulent or forged prescription at a local pharmacy for prescription drugs for which you don't have an actual or valid prescription.
A crime of the third degree is punishable by a period of incarceration of between three (3) and five (5) years in NJ State Prison. There are also mandatory financial penalties associated with a Third Degree drug conviction, including a $1,000 Drug Enforcement Demand Reduction (DEDR) penalty and a $50 laboratory fee. In addition, under this section of the criminal code, a fine of up to $50,000 can also be imposed.
Contact a Randolph Prescription Fraud Lawyer for a Free Consultation
If you are facing charges for Obtaining CDS by Fraud in Morris County, there can be serious consequences associated with a conviction, including jail time and hefty fines. Don't delay in hiring legal representation. Protect your freedom and your rights. Contact the Tormey Law Firm in Morristown at (908) 336-5008 for a free consultation, or you can use the online contact form to find the answers you need to defend your innocence.