Dover NJ Criminal Defense Lawyers
Criminal and DWI Defense Attorneys in Dover Municipal Court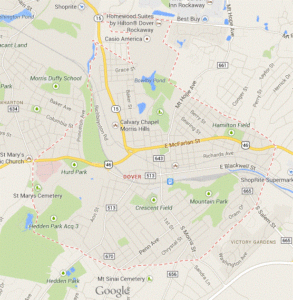 Dover is a town in Morris County, NJ, with a population of more than 18,000 people. Located on the Rockaway River, Dover is about 31 miles (50 km) west of New York City and about 23 miles (37 km) west of Newark, New Jersey. Highways traveling in or nearby Dover include Interstate 80, U.S. Route 46, New Jersey Route 10, County Route 513, and New Jersey Route 15. Dover may be reached from exit 34 & 35 of I-80, which is a popular stop for travelers, located halfway between the Delaware Water Gap and New York City, and serving the Rockaway Townsquare Mall.
Travis J. Tormey and his team of lawyers have extensive experience representing clients charged with DWI, speeding, and marijuana possession in Dover Municipal Court. At the Tormey Law Firm, our lawyers' experience as both prosecutors and defense attorneys gives us a major advantage when we combat the charges in your case because we know how the other side thinks. Mr. Tormey was named one of the 10 best criminal lawyers in the State of NJ by the American Jurist Institute. He also has a perfect 10.0 rating on Avvo.com, an attorney rating service where he is reviewed by more than 75 of his clients.
The lawyers from the Tormey Law Firm appear in courts throughout Morris County on a daily basis. Contact us 24 hours a day at 866-949-6948, or use our online contact form to arrange a free consultation about your case.
Dover NJ Municipal Court Information
The Dover Municipal Court handles traffic summonses, minor criminal matters, and municipal ordinance violations. The only criminal cases that are heard at the local municipal court level are disorderly persons offenses and petty disorderly persons offenses. More serious offenses (indictable felony charges) involving jail exposure greater than six (6) months are initially processed in local municipal court before being sent to Morris County Superior Court, which is located in Morristown, NJ.
The Dover Municipal Court is located at 37 North Sussex Street in Dover, NJ. The court office is open Monday-Friday 8:30 AM to 4:00 PM, and the court office can be contacted directly at (973) 366-2200 ext. 1137. For more information on the Dover Municipal Court, visit their official website.
Michael M. Luther is the Chief Municipal Court Judge.
Gerard Smith is the Municipal Court Judge.
Lisa Thompson and Douglas R. Cabana are the Prosecutors.
Sonia Barria is the Court Administrator.
Directions to Dover Municipal Court
Other Helpful Links and Information about Dover NJ
For additional information about Dover, visit the Dover website.
The Dover Police Department is also located at 37 North Sussex Street. They can be contacted at (973) 366-0302. For more information on the Dover Police Department, go to their website.
For news and information on Morris County, check out the NJ.com website.
Contact a Dover NJ DUI Defense Attorney for Immediate Assistance
If you are facing a DWI charge in Dover, NJ, call the Tormey Law Firm today for a free consultation. We can formulate a strategy that will help you avoid serious criminal penalties and potentially get your case dismissed. Contact our Morris County office 24 hours a day at: 866-949-6948.