Morris County Theft by Extortion Lawyers
Criminal Defense Attorneys in Morristown, New Jersey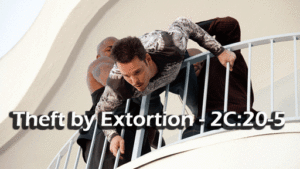 Theft by extortion, more commonly known as "blackmail," is a serious crime with severe punishments in New Jersey. The applicable statute is interpreted broadly by NJ prosecutors, who often bring theft by extortion charges in both street crimes and white collar crimes. Without proper legal representation, you or your loved one could be facing serious prison time.
The Tormey Law Firm is an experienced group of criminal defense lawyers who have extensive experience representing clients charged with theft and fraud offenses, including burglary, credit card fraud, and shoplifting throughout Morris County and New Jersey, including in Dover, Mount Olive, Denville, Parsippany, Roxbury, and Morristown. Our managing partner, Travis J. Tormey, was featured in the Daily Record in Morris County regarding several shoplifting cases he handled and the immigration consequences and penalties involved. In other words, we have the knowledge and resources to successfully defend you if you have been charged with theft by extortion in New Jersey. For more information about your charges and how we can help, contact the Tormey Law Firm in Morristown anytime at 866-949-6948 for a free consultation.
Theft by Extortion in New Jersey: N.J.S.A. 2C:20-5
In New Jersey, N.J.S.A. 2C:20-5 governs theft by extortion charges and provides, in pertinent part:
A person is guilty of theft by extortion if he purposely and unlawfully obtains property of another by extortion. A person extorts if he purposely threatens to:
a. Inflict bodily injury on or physically confine or restrain anyone or commit any other criminal offense;
b. Accuse anyone of an offense or cause charges of an offense to be instituted against any person;
c. Expose or publicize any secret or any asserted fact, whether true or false, tending to subject any person to hatred, contempt or ridicule, or to impair his credit or business repute;
d. Take or withhold action as an official, or cause an official to take or withhold action;
e. Bring about or continue a strike, boycott or other collective action, if the property is not demanded or received for the benefit of the group in whose interest the actor purports to act;
f. Testify or provide information or withhold testimony or information with respect to another's legal claim or defense; or
g. Inflict any other harm which would not substantially benefit the actor but which is calculated to materially harm another person.
NOTE: It is an affirmative defense to prosecution based on paragraphs b, c, d, or f that the property obtained was honestly claimed as restitution or indemnification for harm done in the circumstances or as lawful compensation for property or services.
Degrees and Penalties for Theft by Extortion in NJ
Degree

Circumstances

2nd Degree Theft by Extortion

five (5) to 10 years in NJ State Prison

The amount involved is $75,000 or more;
The property is taken by extortion; or
The property stolen is a controlled dangerous substance ("CDS") and the quantity is in excess of one kilogram.

3rd Degree Theft by Extortion

three (3) to five (5) years in NJ State Prison

Between $500 and $75,000;
Property stolen is a firearm, motor vehicle, boat, domestic companion animal, vessel, boat, or airplane;
The property is stolen from the person of the victim.

4th Degree Theft by Extortion

18 months in NJ State Prison

Disorderly Persons Theft by Extortion

six (6) months county jail
Elements of a Theft by Extortion Crime
When seeking a conviction for theft by extortion, the prosecution must prove several elements:
The defendant obtained property or money belonging to another person.
The property or money was obtained as a result of a threat proscribed by the statute.
The threat was made for the purpose of obtaining the property or money in question.
The defendant's demand for property or money was unlawful.
Contact a Randolph Theft by Extortion Defense Attorney Today
There are several advanced defenses available to a person charged with theft by extortion. For instance, it is an affirmative defense that the defendant was exposing a fact or secret for the purpose of restitution or for lawful compensation. Additionally, an experienced criminal defense lawyer can argue that the defendant's behavior did not rise to the level of "coercion."
Due to the fact that theft by extortion charges have serious consequences, it is imperative that you do not delay in contacting an experienced criminal defense attorney. Here at the Tormey Law Firm, we care about our clients, and we understand the stress and fear that a person charged with this kind of crime experiences. We will guide you through the complicated NJ criminal justice system and zealously represent you. If you or a loved one has been charged with theft by extortion or another criminal offense in Randolph, Washington Township, Montville, Chatham, Florham Park, or elsewhere in Morris County, contact the Tormey Law Firm anytime at 866-949-6948 for a free consultation.