Suspects from Netcong and Budd Lake Face Heroin Possession & Distribution Charges in Morris County, New Jersey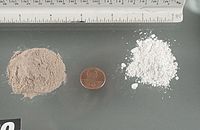 Three Morris County residents face criminal charges for allegedly conspiring to distribute heroin in New Jersey. The suspects in the drug crime case are 50-year-old Debra Hartle, her 29-year-old daughter Amanda Hartle, and 52-year-old Murad Malone. The Hartles live in Netcong, NJ, while Malone resides in Budd Lake, an unincorporated community in Mount Olive, NJ. Police launched an investigation into the three suspects after receiving information that the suspects were dealing heroin. The Roxbury Police Department, the Mount Olive Police Department, the Morris County Sheriff's Office, and the Morris County Prosecutor's Office worked together on the investigation.
In March, law enforcement reportedly observed Amanda Hartle meet with an undercover informant on three occasions and sell heroin. According to authorities, those transactions were captured by a recording device. At least one of those transactions allegedly involved Malone.
In April, police executed search warrants at the suspects' respective residences in Netcong and Budd Lake and then placed the suspects under arrest. During a search of the Netcong residence belonging to the Hartles, police officers reportedly found hypodermic needles but did not find any heroin. A search of the Budd Lake apartment belonging to Malone, however, allegedly turned up 255 bags of heroin and cash believed to be the proceeds of illegal drug sales.
Drug Crime Charges & Penalties in Netcong, New Jersey
The suspects have been charged with multiple crimes: possession of heroin and conspiracy to distribute heroin. These are felony-level offenses that carry severe penalties that could include significant prison time. Even if the suspects reach a plea deal in the case and avoid trial, it is very possible that they will end up spending time in jail and have convictions on their permanent records.
While the very serious drug crime charges remain pending, the older Hartle will be allowed to remain free. That was the order of Morris County Superior Court Judge Donald Collester, who issued the ruling during a hearing in Morristown, NJ. As long as Hartle avoids alcohol and meets requirements by reporting to the Morris County pretrial services unit each month, she will stay out of jail – at least until she stands trial. However, Malone and the younger Hartle will stay behind bars in the Morris County Jail while the charges are pending. The two suspects were deemed "flight risks" by the judge. Additionally, the judge noted that the suspects have criminal records that include past convictions for felonies in NJ. So, at least for the time being, they will be detained in jail.
Free Consultation with Experienced Drug Crime Attorney in Mount Olive, NJ
Have you been charged with a felony drug crime in Mount Olive, Netcong, Parsippany, Morristown, or anywhere else in Morris County, NJ? Let experienced New Jersey criminal defense lawyer Travis Tormey help you fight the charges and avoid the most severe penalties. Contact him today to discuss your case.
Related Blogs: