Weapons and Controlled Dangerous Substances Charge in Morris County NJ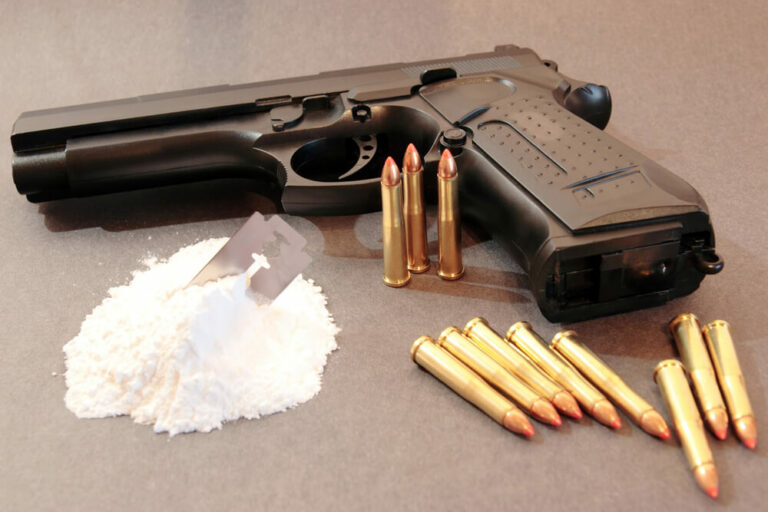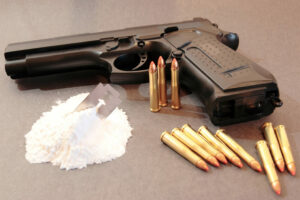 Independently, drug offenses and gun offenses are serious and dangerous; however, when coupled together, distributing a controlled dangerous substance while possessing a weapon can be an especially lethal combination. With its strict gun control laws, individuals in New Jersey are sometimes prosecuted for gun crimes even when their violation of regulations on gun permits was unintentional. Drug charges are also frequently applied in cases where an individual possessed a small quantity of a controlled substance for personal use. However, due to the dangerous combination of a firearm and a controlled dangerous substance, individuals who possess a firearm or any other weapon can face serious criminal liability if they do so while committing certain drug offenses.
If you are facing drug and gun charges in Morris County, NJ, you should know what can be done to defend you to the fullest extent possible. Contact our Morristown criminal law office immediately and to discuss your case with one of our lawyers in a free consultation. Our talented defense attorneys have superior knowledge and experience defending clients charged with weapons and drugs offenses in Florham Park, Millburn, Parsippany, Rockaway, Roxbury, Mount Olive, Denville, and throughout the Morris County area. Contact us at (908)-336-5008 as soon as possible to talk to one of our lawyers right away.
New Jersey Gun and Drug Law Under N.J.S.A. 2C 39-4.1
Under N.J.S.A. 2C 39-4.1, it is a second degree indictable offense to possess a firearm while you are committing, attempting, or conspiring to commit certain drug offenses including possessing with intent to distribute a controlled dangerous substance (CDS), distributing CDS, distributing CDS within 500 feet of any public property like a park or government building, distributing CDS within 1,000 feet of school property, maintaining or operating a facility where drugs are produced, and employing a juvenile in a scheme for distributing drugs.
It is also a second degree offense to possess a weapon other than a firearm if you intend to use it during the commission of one of these drug offenses. New Jersey law applies a harsh punishment with mandatory sentencing to violations of this statute.
Arrests and Detention Hearings for Weapons & Controlled Dangerous Substances Charges in NJ
A violation of New Jersey's gun and drug law is an indictable offense for which a warrant complaint will be issued. The prosecutor will likely file a motion for detention; however, pre-trial detention is not mandatory in New Jersey unless you are charged with murder or several other severe offenses. If the prosecutor files a motion for detention, which is likely involved in a guns and drugs case, you will have a detention hearing within 48 hours of your arrest. At your detention hearing, you have the right to be represented by an attorney and present an argument as to why you should not be detained pending the outcome of your case.
The judge may not order you to be detailed while awaiting your trial unless they determine that no condition or set of conditions would provide reasonable assurance that your release would not endanger anyone or obstruct justice, or that you would not fail to appear for your trial. Therefore, if a condition can be applied that reasonably assures that one of the above described situations would not occur, you may be released from detention. This is where a tested and proven criminal defense lawyer plays a critical role. You want to get an attorney involved right away to represent you after being arrested for weapons and controlled dangerous substances, as it is critical to have your case argued to the fullest extent at your detention hearing.
Potential Penalties for Breaking NJ Drugs and Guns Law
As a second degree indictable offense, N.J.S.A. 2C 39-4.1 carries potential penalties of 5 to 10 years in prison and fines of up to $150,000 if convicted. The offense also carries a presumption of incarceration, which means that it is very likely that an individual convicted of this offense will serve a mandatory period of time in prison rather than getting probation and fines only.
Two Different Charges, Two Different Consecutive Sentences
A unique provision of New Jersey's gun and drug law is that those convicted must serve consecutive or separate sentences for the drugs and guns charge and any other additional charges they are facing. In the context of many criminal cases, sentences can be merged and time spent in prison for one offense can count as time towards the sentence of the other offense as well. This is not the case for New Jersey's gun and drug law. So, a judge could sentence a defendant to 5 years in prison for an offense like drug distribution, and another 5 to 10 year-sentence for the drugs and weapons offense to begin when they are finished serving the first sentence. In other words, two charges that may have otherwise be served at the same time end up being stacked on top of each other to determine the total number of years in prison.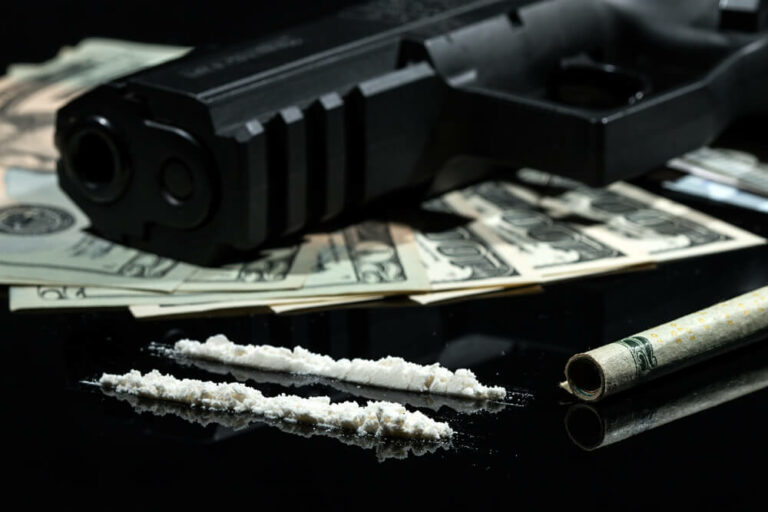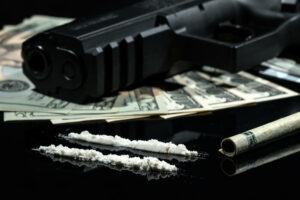 Seek out our Morristown Defense Lawyers if You Have been Charged with a Drugs and a Guns Crime in New Jersey
If you are facing charges relating to possession of a firearm or another weapon during the commission of a drug offense, it is important to remember two crucial steps: remain silent and contact an experienced criminal defense attorney immediately. The best outcome in your situation would be to have all of the charges against you dropped. The second best outcome would likely be to have a charge for violating New Jersey's gun and drug law under N.J.S.A. 2C 39-4.1 dropped, as it carries significant penalties, including mandatory consecutive sentences.
In order to potentially accomplish that and present the most effective defense possible to these charges, you need a highly-skilled and experienced attorney who can examine the evidence against you and how that evidence was collected. If your rights were violated in any way during your arrest or the search of your vehicle, it is possible that some or all of the prosecution's evidence against you may be inadmissible in court. However, without in-depth knowledge of New Jersey criminal law, rules of criminal procedure, and the Constitution, opportunities to exclude evidence from the record may be missed, which could ultimately lead to a conviction and significant prison time.
Our team of criminal lawyers has spent years defending clients charged with these drugs and guns crimes and other related offenses, such as certain persons offenses, possession of a weapon for an unlawful purpose, and large-scale drug distribution in Madison, Kinnelon, Chatham, Boonton, Dover, and neighboring towns in Morris County NJ. Contact us for a free consultation about your case and get the further assistance you need to defend your freedom. Call (908)-336-5008 today.