Criminal Restraint Defense Lawyer in Morris County NJ
False Imprisonment Attorney with Offices in Morristown, New Jersey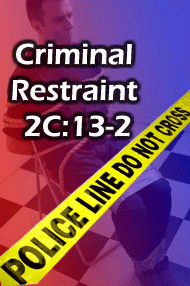 Although criminal restraint in New Jersey can result in serious penalties, it is often hard to understand exactly what constitutes "criminal restraint." Criminal restraint typically occurs when a person restrains someone else in such a way as to expose the other person to risk of serious bodily injury, meaning that the injury creates a risk of death or causes permanent disfigurement to the victim. Less commonly, criminal restraint also occurs when a person restrains someone else by holding that person in a condition of involuntary servitude, as in slavery. A conviction for criminal restraint can result in the offender being sentenced to prison time, in addition to other penalties outlined below.
Hiring a skilled criminal defense attorney might be your only hope of beating a criminal restraint charge and avoiding serious prison time. Travis J. Tormey's knowledge of criminal law is vast and his experience in the field is extensive. He has successfully defended countless clients charged with various criminal offenses, including criminal restraint, kidnapping, and false imprisonment in Dover, Denville, and Parsippany. The Tormey Law Firm also has a current New Jersey Municipal Prosecutor on staff, which gives us an advantage when formulating a defense strategy in your case because we know how the other side thinks.
If you or your loved one is facing a criminal restraint charge, give us a call anytime at 866-949-6948, or you can use the online contact form.
N.J.S.A. 2C:13-3: False Imprisonment Charges in New Jersey 
To better understand the charge of criminal restraint, it is essential that you understand the criminal offenses which are intrinsically linked to the crime of criminal restraint: false imprisonment and kidnapping.
A person commits a disorderly persons offense of false imprisonment if he knowingly restrains another unlawfully so as to interfere substantially with that person's liberty. A disorderly persons offense carries a maximum prison sentence of six (6) months.
In any prosecution for false imprisonment, it is an affirmative defense that the person restrained was a child less than 18 years old and that the actor was a relative or legal guardian of such child.
N.J.S.A. 2C:13-1: Kidnapping Charges in New Jersey 
A person is guilty of kidnapping if he unlawfully confines another person for the purpose of holding that person for ransom or reward; to facilitate commission of a crime; to inflict bodily injury on the victim; or to terrorize the victim. If the victim is released unharmed, the kidnapping is classified as a second degree offense and is punishable by a term of imprisonment of between five (5) and 10 years in NJ State Prison. If the victim is safely freed by someone other than the kidnapping, it is a first degree crime, punishable by up to 20 years in state prison.
N.J.S.A. 2C:13-2: Criminal Restraint Charges in New Jersey 
Criminal restraint in New Jersey is governed by N.J.S.A. 2C:13-2, which provides, in pertinent part:
A person commits a crime of the third degree if he knowingly:
a. Restrains another unlawfully in circumstances exposing the other to risk of serious bodily injury; or
b. Holds another in a condition of involuntary servitude.
Criminal Restraint Penalties in New Jersey 
The charges of criminal restraint, false imprisonment, and kidnapping are closely related to one another. While false imprisonment refers simply to the unlawful restraining of another person, criminal restraint involves the risk of serious bodily injury.
Although kidnapping is the most serious of these offenses, criminal restraint can also result in harsh punishments. Since criminal restraint is a third degree crime, a person convicted of criminal restraint faces between three (3) and five (5) years in NJ State Prison.
Contact our Randolph NJ Criminal Restraint Lawyers for Answers 
Our criminal defense attorneys have experience defending clients against criminal restraint charges. Having an active NJ prosecutor on staff gives us the insight needed to help you secure a win in the courtroom and preserve your freedom. And because the Tormey Law Firm is devoted to criminal defense, we've developed advanced defense strategies that we can use to help you beat the case.
If you've been charged with criminal restraint in New Jersey, do not hesitate to contact the Tormey Law Firm. A member of our criminal defense team will be happy to answer any questions you have and provide you with an honest assessment of your case. This consultation about your case will be free. Call us today at 866-949-6948 so that we can look over your file and formulate a defense strategy. You can also reach us through our online contact form.