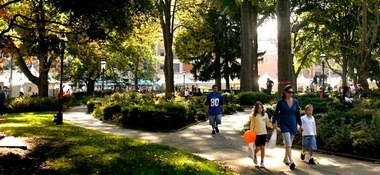 Undercover officers from the Morristown Police Department recently arrested three individuals on drug charges in connection with an alleged drug transaction that occurred at a local park.
According to Morristown Police Detective Lieutenant Stuart Greer, undercover officers Scott Weaver and Anthony O'Brien witnessed three individuals acting suspiciously in the Morristown Green on Tuesday, August 5th. They reported seeing an alleged drug transaction taking place between Michelle Trasente, a 24-year-old Randolph resident, Jeffrey Schermerhorn, a 24-year-old Madison resident, and Kenneth Widdis III, a 28-year-old from East Stroudsburg, PA.
Following the alleged incident, all three of the aforementioned individuals were taken to police headquarters and charged with possession of a controlled dangerous substance (either heroin or synthetic marijuana) and possession of a hypodermic needle. Widdis is facing additional charges for possession with intent to distribute, as well as possession with intent to distribute within 500 feet of a public park, and possession with intent to distribute within 100 feet of school property. Due to the seriousness of these offenses, he is currently being held at the Morris County Correctional Facility in lieu of $10,000 bail.
Although Widdis is clearly facing the most serious charges of the three defendants, each of them could be subject to significant penalties upon conviction. For example, possession of heroin, detailed under N.J.S.A. 2C:35-10, is typically considered a third degree crime, punishable by a sentence ranging from 3 to 5 years in New Jersey State Prison. Further, offenses involving possession of synthetic marijuana, governed under N.J.S.A. 2C:35-10.3a, can be classified as third or fourth degree crimes. In the case of a fourth degree conviction, a defendant may be subject to a term of up to 18 months in prison.
For more information pertaining to this case, read the following article: Police: Three arrested on Morristown Green after undercover cops witness drug deal