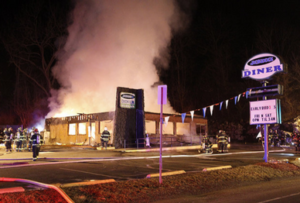 Two people who allegedly burned down the Jerzeez Diner in Vernon Township NJ are likely headed to prison after pleading guilty to arson charges.
The suspects are a 49-year-old woman and a 40-year-old man. The suspects, who have a dating relationship, are from Butler NJ and owned the restaurant on Route 94 in Vernon, New Jersey.
According to Sussex County authorities, the suspects went on the Internet and researched information about starting fires with combustible materials. They reportedly did this because the business was failing financially.
On March 8, 2016, the suspects drove from their Butler NJ residence to the Vernon restaurant and set fire to the building.
Afterwards, the suspects reportedly tried to collect insurance on the burned-down Vernon Township restaurant.
The suspects were charged with single counts of third degree arson, a charge that carries a potential penalty of 3-5 years in New Jersey State Prison. Now they have reached a plea agreement with the Sussex County Prosecutor's Office, with prosecutors agreeing to recommend a lighter sentence in exchange for the suspects pleading guilty to arson.
Fortunately, nobody was injured as a result of the fire. If anyone had been injured due to the fire, prosecutors may have been less likely to offer a plea deal.
The suspects will have to appear in Sussex County Superior Court in Newton on May 12 for a formal sentencing hearing.
For more information about this case, access the NJ.com article, "Jerzeez Diner Owners Admit to Burning Down Restaurant."