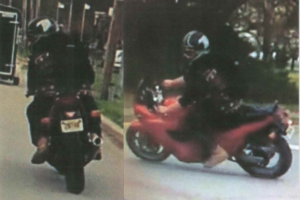 Pequannock NJ police are searching for a man who allegedly eluded police and refused to pull over when signaled to do so.
The suspect was reportedly driving a red Kawasaki motorcycle and headed northbound on Route 23 North in Pequannock, New Jersey around 4:56 p.m. A Pequannock police officer was on patrol at the time and reportedly saw the suspect commit a traffic infraction. The cop attempted to get the suspect to pull over his bike, but the suspect allegedly ignored the officer's requests and continued driving.
The police officer pursued the suspect until the motorcyclist got on Route 287 and accelerated. He was last seen heading north on the highway.
The Pequannock Police Department is investigating the incident and trying to determine the identity of the suspect. The biker has been described as a male who was wearing dark clothing and a motorcycle helmet with a white eagle emblem.
If and when law enforcement arrests the suspect, he will likely face charges for eluding police.
Pequannock NJ detectives are asking for the public's assistance with the investigation. Anyone who has information about the suspect is asked to contact authorities at 973-835-1700.
To learn more about this case, check out the NJ.com article, "Cops Search for Motorcyclist Who Fled Traffic Stop in Pequannock."