Weapons Seized in NJ Domestic Violence Case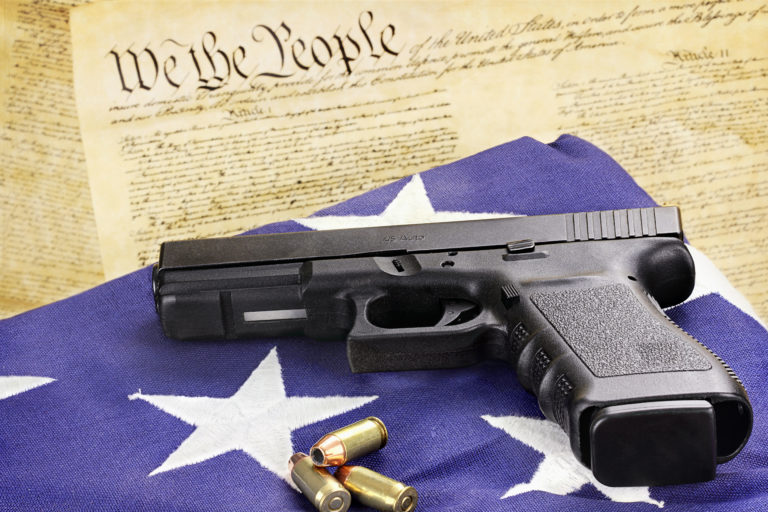 The New Jersey Supreme Court issued an important ruling in a firearm possession case, which is the first time in 26 years that the highest court in NJ has ruled on a handgun possession issue. The court's holding, which came via a unanimous opinion, said that the state's domestic violence prevention law does not constitute a violation of citizens' rights to bear arms under the Second Amendment of the US Constitution. The New Jersey domestic violence prevention law provides NJ police with the authority to confiscate weapons from alleged domestic violence offenders who have been slapped with a temporary restraining order (TRO) or a final restraining order (FRO).
Although the NJ state law calls for the forfeiture of weapons by alleged domestic violence offenders, there has been a major push to overrule the law because it may conflict with an individual's constitutional rights. The recent NJ Supreme Court opinion, written by Associate Justice Lee Solomon, specifically addressed 2nd Amendment's guarantee of the right to bear arms. Solomon wrote that this important constitutional right is "subject to reasonable limitations." One of those limitations on the right to bear arms, noted Solomon, is that "the police power of the state provides our Legislature with the authority to regulate firearms."
Domestic Violence Charges in Morris County, NJ
In this recent case, the defendant's wife alleged that he committed domestic violence in Morristown, NJ. This allegation ultimately led to a restraining order. Moreover, Morristown NJ police invoked the New Jersey Prevention of Domestic Violence Act to seize the defendant's legally owned firearms. The Morris County Prosecutor's Office justified the forced surrender of the defendant's weapons because, prosecutors argued, his "volatile marital history" raised serious concerns for his wife's safety.
Two different lower courts ruled in the defendant's favor, finding that his ex-wife lacked credibility and ultimately deciding that the defendant's constitutional right to bear arms trumped any sort of previous marital difficulties.
However, the New Jersey Supreme Court had the last word in the case, declaring that the weapons forfeiture should be allowed because the ex-cop's history of domestic violence included several altercations during his earlier marriage and cast serious doubt on his ability to avoid issues in the future.
New Jersey's Strict Gun Crime Laws
New Jersey has some of the toughest handgun possession laws in the United States. It would seem that the NJ Supreme Court wants to make sure that the state's gun crime laws remain tough going forward.
The NJ Supreme Court's last ruling in a firearms case came way back in 1990, when the justices upheld the state's denial of firearms permits to two private detectives. The most recent case was slightly different, implicating the New Jersey Prevention of Domestic Violence Act of 1991. The court ruled that an ex-cop with the Roseland Police Department must forfeit his firearms, as well as his firearms ID card, because he has a prior history of domestic violence. This case could set the bar very high for ordinary citizens in New Jersey because former police officers typically get more leeway in the Garden State: ex-cops are among the only people who are allowed to obtain concealed carry permits.
The NJ Prevention of Domestic Violence Act grants state officials, including law enforcement agencies, the right to confiscate weapons from anyone who poses a risk to the "public health, safety, or welfare." In a typical domestic violence case, the victim might be concerned about a threat posed by the alleged domestic violence offender. This potential for fear, and public alarm, led New Jersey lawmakers to grant local law enforcement agencies the authority to seize potentially deadly firearms and other weapons from a person who is accused of domestic violence.
A Lower Standard of Proof in New Jersey Domestic Violence Firearms Cases
NJ judges are extremely cautious and typically play it safe when it comes to protecting public safety in domestic violence situations. Ultimately, a court must sign off on a police department's seizure of handguns, firearms, and other weapons from a person facing a permanent restraining order.
When considering domestic violence weapons cases, a court must base its legal rulings on a civil standard of "preponderance of the evidence." This means that the threat of violence posed by the defendant is more likely than not to manifest in violence. The same standard of proof is applied in NJ restraining order hearings. By contrast, the standard of proof in NJ criminal matters is "beyond a reasonable doubt," which is a significantly harder standard for a state, county, or local prosecutor to meet.
The Implications of the NJ Supreme Court's Ruling on Domestic Violence Weapons Forfeitures
After the New Jersey Supreme Court's issued its ruling in the domestic violence weapons forfeiture case, Nancy Erika Smith, founder of Wynona's House in Newark and a legal advocate for victims of domestic violence, commended the court's decision. "If you can't control yourself, if you have to be violent to your own family," suggested Smith, "of course you shouldn't have a gun."
At the same time, Alexander Roubian, president of the NJ Second Amendment Society, also offered praise for the recent court ruling. Roubian stated that "anybody who's given due process and is guilty of domestic violence should not be allowed to own any type of weapon."