Morris County Methamphetamine Defense Lawyers
Methamphetamine Possession and Distribution Offenses in New Jersey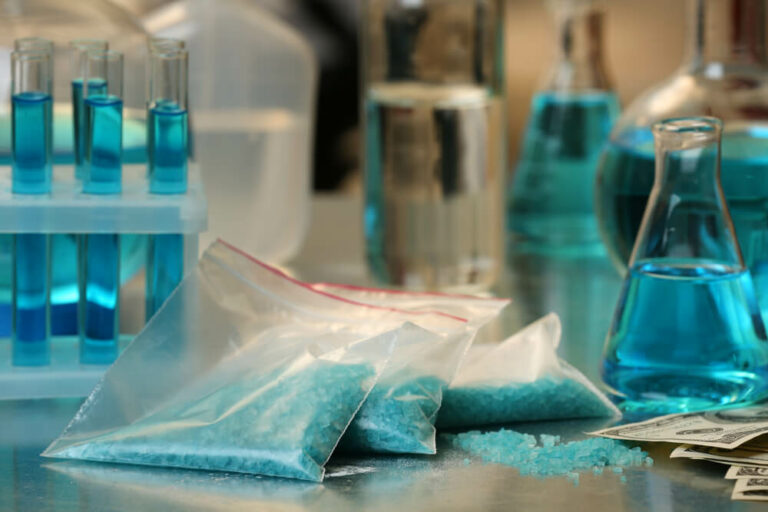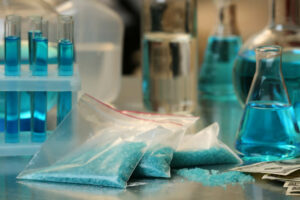 Over the past few decades, the U.S. has experienced an unprecedented drug epidemic, with an increase in opioid and methamphetamine use and deaths causing devastating effects to countless individuals and their families.  Methamphetamine, also known as meth or by its street name "crystal", is a type of amphetamine——a synthetic drug with psychoactive properties. It is classified as a Schedule II controlled dangerous substance (CDS) in the state of New Jersey, indicating that there is a high risk of abuse and addiction with this drug. As such, severe criminal penalties are imposed on those convicted of possession and/or distribution of methamphetamine. Below, our skilled drug defense attorneys explain the penalties for methamphetamine possession and possession with intent to distribute, along with other important information about methamphetamine-related criminal prosecutions and potential defenses in New Jersey.
Our firm has a professional legal team highly experienced in defending drug-related cases. We are committed to protecting your rights and fighting for your cause. If you have been arrested for possessing or distributing methamphetamine anywhere in Morris County or New Jersey, you can contact us for an initial free consultation. We will provide you with all the necessary information to help you move forward in your case. Clients from Boonton, Harding, Madison, Hanover, Chatham, Morristown, Parsippany, and surrounding towns count on our accomplished criminal law firm for help. We can help you, too; just call (908)-336-5008 to talk with one of our experienced attorneys.
In NJ Methamphetamine Crime Cases, Quantity Matters
When it comes to methamphetamine charges, how much methamphetamine an individual has in their possession significantly impacts the potential sentence they may face if convicted. In New Jersey, it is a third degree offense to be in possession of any amount of methamphetamine less than one half of an ounce. This is an indictable offense, which is equivalent to a felony.
If you are found to be in possession of between one half of an ounce and five ounces, you may be charged with possession with intent to distribute, which is a second degree indictable offense. When an individual is in possession of this amount of methamphetamine, there is a legal presumption that the individual is not possessing it for personal use, but rather that they have an intent to distribute it to others. It is important to note that, while this presumption can be rebutted or overcome by the defendant, it is the defendant's burden to prove that they did not have an intent to distribute.
While the prosecution has the burden to prove each element of a criminal offense beyond a reasonable doubt, the defendant need only produce evidence to demonstrate that they lacked an intent to distribute by a preponderance of the evidence, which means that it is more likely than not that they lacked the intent to distribute.
If an individual is found to be in possession of more than five ounces, they will be charged with a first degree offense for possession with intent to distribute. Again, the charge carries a legal presumption of intent, which the defendant may rebut; however, it becomes more difficult to overcome this presumption and prove that the methamphetamine was for personal use only with such a large quantity.
Penalty Panorama for Methamphetamine Possession in NJ
Simple possession of less than one half of an ounce of methamphetamine for personal use is punishable by fines between $35,000 to $75,000 and imprisonment of up to five years. In addition, those convicted of third degree methamphetamine possession may be ordered to participate in rehabilitation and drug education programs. If the offense is committed within 1,000 feet of a school, heightened penalties apply, including up to 100 hours of mandatory community service.
Methamphetamine Possession with Intent to Distribute Sentencing by Degree in NJ
As discussed above, possession of one half of an ounce of methamphetamine or more carries with it a presumption of an intent to distribute. These offenses are punished even more severely than simple possession because of the risk posed to and harm inflicted upon society through the distribution of the dangerous, habit-forming drug. Those convicted of second degree methamphetamine possession with intent to distribute (between one half of an ounce and five ounces) face fines of up to $150,000 and a prison sentence of up to ten years.
If you are convicted of first degree methamphetamine possession with intent to distribute (more than five ounces), you may be sentenced to up to twenty years in prison and be ordered to pay fines of up to $300,000.
Understanding the Concept of "Under the Influence" of Meth in NJ
When an individual is "under the influence" of methamphetamine, it means that they are suffering some degree of impairment due to the consumption of methamphetamine. Being under the influence of methamphetamine while operating a motor vehicle or boat can result in additional legal consequences like losing your driver's license, jail time, fines, and mandatory drug education and rehabilitation programs.
Proving Methamphetamine Charges Beyond Reasonable Doubt in New Jersey
To secure a conviction, the prosecution must prove each element of the methamphetamine possession charge beyond a reasonable doubt. This includes proving that you were, in fact, in possession of the methamphetamine and the exact quantity of methamphetamine they allege you were in possession of. While the element of intent for second and first degree methamphetamine possession with intent to distribute is presumed, the prosecution may also present any actual evidence of intent they have as well.
Have a Methamphetamine Case in NJ, What are My Defense Options?
The defenses that a defendant may successfully present are highly specific to the facts of their case. It is important to consult with a knowledgeable criminal defense attorney to examine your case and help you to develop the most appropriate defense strategy based on the facts.
However, some common defenses include that the prosecution's evidence was obtained through an unreasonable search and seizure and is therefore inadmissible, the methamphetamine was not yours (they have the wrong person), the quantity of methamphetamine was less than alleged by the prosecution, and/or that you lacked the intent to distribute the methamphetamine.
Contact our Methamphetamine Charge Attorneys in Morristown NJ
If you have been charged with a methamphetamine offense in Denville, Montville, Pequannock, East Hanover, Morristown, Florham Park, Dover, or another part of the Morris County Area, you are facing years of potential jail time for even the lowest level offense. A legal presumption of intent for possession of one-half of an ounce or more of methamphetamine makes the help of a skilled criminal defense attorney absolutely critical. Our team of Morris County criminal defense lawyers will leave no stone unturned when it comes to formulating an aggressive and effective defense strategy. We aim to uncover any and all mistakes made by law enforcement in your arrest or the collection of evidence in your case, to exclude any evidence that was obtained through the violation of your rights. Contact us immediately for a full review of your case. We provide consultations at no cost and are available now to assist you at (908)-336-5008.