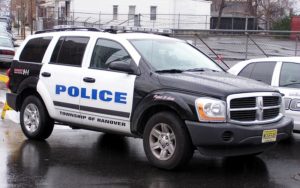 Hanover NJ police are searching for a suspect accused of stealing at least three vehicles in a single day.
According to authorities, the suspect began the crime spree by stealing a 2003 Toyota Camry that was parked outside Halo Pharmaceutical in Hanover, New Jersey. The vehicle owner was reportedly unloading a number of boxes from the car when the suspect hopped into the driver's seat and sped off.
The suspect also allegedly stole a minivan and a dump truck from different locations in Hanover, New Jersey.
Later that day, the suspect allegedly committed another yet theft offense by burglarizing a car parked in front of a business located on Route 10 in Hanover, NJ. The suspect reportedly broke into the motor vehicle and stole several electronic items, including an iPad3 and a dash camera.
Hanover NJ detectives obtained video surveillance footage that reportedly shows the suspect unlawfully entering the car.
The suspect is said to be a white male who has a short beard and who wore a leather jacket while burglarizing the vehicle outside the Route 10 business.
If police can eventually identify and capture the suspect, he would likely face criminal charges for auto theft and burglary.
For more information about this case, access the NJ.com article, "Police in Hanover Looking for Suspect in 3 Vehicle Thefts."