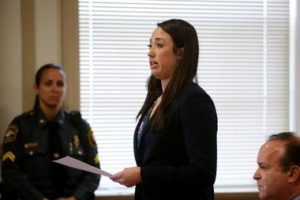 A former teacher at Parsippany Hills High School in Parsippany NJ is headed to prison after pleading guilty to sex crime charges.
The suspect is a 35-year-old woman from Mount Olive, New Jersey. She was arrested in 2014 after detectives determined that she sent sexually explicit text messages to one of her male students at the Parsippany high school. The underage victim was just 16 years of age.
According to law enforcement, the suspect traded highly inappropriate "sexts" with the juvenile between January 2013 and June 2013. Authorities also alleged that the suspect sent sexually explicit photographs to the student and engaged in sexual acts "occurring on and off school grounds."
The suspect was placed under arrest in 2014 and charged with numerous sexual offenses, including sexual assault, criminal sexual contact, and endangering the welfare of a child. She was also charged with official misconduct because of her role as a teacher.
The suspect ultimately avoided trial by reaching a plea deal with the Morris County Prosecutor's Office and pleading guilty to the child endangerment charges.
Now the suspect is headed to prison. Under the terms of her plea agreement with Morris County prosecutors, the suspect was sentenced to a term of incarceration of five years in New Jersey State Prison. The suspect asked for leniency at the official sentencing hearing, but the superior court judge decided to impose the agreed-upon sentence.
For additional information about this case, access the NJ.com article, "Ex-Teacher Who Sent Graphic Texts to Student Sentenced to 5 Years in Prison."