Florham Park Criminal Defense Attorney
Criminal and DWI Lawyer in Florham Park Municipal Court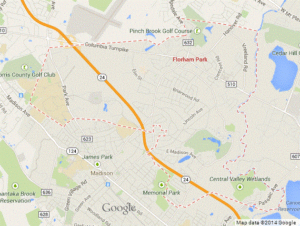 Florham Park is a borough in Morris County, NJ, with a growing population of more than 11,600 people covering about 7.5 square miles. The National Football League's New York Jets relocated their main headquarters in 2008 to the Atlantic Health Jets Training Center, located in Florham Park. Florham Park is also the North American headquarters of the BASF corporation, the world's largest chemical company.
If you are facing criminal or drug charges in Florham Park, New Jersey, contact the aggressive criminal and drug defense attorneys at the Tormey Law Firm. Travis J. Tormey and his team of lawyers have extensive experience representing clients charged with DWI, resisting arrest, and marijuana possession in Florham Park Municipal Court. Mr. Tormey previously worked at the United States Attorney's Office in a variety of areas, including the gang task force, sex crimes unit, and white collar crimes units. The skilled criminal defense lawyers at the Tormey Law Firm appear in courts throughout Morris County on a daily basis. Contact us day or night at 866-949-6948, or use the online contact form to schedule an appointment.
Florham Park Municipal Court Information
The Florham Park Municipal Court is a court of limited jurisdiction. It handles most minor criminal matters, traffic offenses, and municipal ordinance violations. The criminal cases that are heard at the local municipal court level are disorderly persons offenses and petty disorderly persons offenses. More serious offenses (indictable felony charges) involving jail exposure greater than six (6) months are handled in Morris County Superior Court, which is located in Morristown, NJ.
The Florham Park Municipal Court is located at 111 Ridgedale Avenue in Florham Park, NJ. The court office is open Monday-Friday 9:00 AM to 4:00 PM, and the court office can be contacted directly at (973) 410-5324. For more information on the Florham Park Municipal Court, visit their official website.
Gary Troxell is the Judge.
Gary J. Grabas is the Prosecutor.
Katherine Viger is the Court Administrator.
Directions to Florham Park Municipal Court
Other Helpful Links and Information about Florham Park NJ
For more information about Florham Park, see the Florham Park website.
The Florham Park Police Department is also located at 111 Ridgedale Avenue. They can be contacted at (973) 377-2200. For more information on the Florham Park Police Department, go to their website.
For news and information on Morris County, visit the NJ.com website.
Contact a Florham Park DUI Defense Attorney for a Free Consultation 
If you or a loved one is facing a criminal or drug charge in Florham Park, NJ, don't leave the outcome up to change. Call the Tormey Law Firm today for a free consultation about your case. Let us look over the details of your file and determine the best strategy to help you avoid criminal penalties. You can contact our Morris County office 24 hours a day at: 866-949-6948