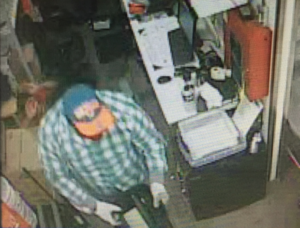 Law enforcement is trying to identify a man who allegedly robbed a Five Guys Burgers fast food restaurant located in East Hanover, New Jersey.
The theft incident was reported to police around 10:30 p.m. Employees dialed 911 to alert local East Hanover police that someone had robbed the restaurant a short time after it was closed for the night.
Five Guys workers told police that the suspect gained entry to the restaurant through an unlocked door in the back of the building.
Once inside the building, the suspect allegedly used a knife to threaten the victim. He reportedly grabbed money from the store register before fleeing the scene on foot.
East Hanover NJ cops canvassed the surrounding area in search of the suspect, but authorities were not able to find him.
The suspect has been described as a large man who wore a plaid shirt and a baseball hat when he committed the armed robbery. Since the robber wore a mask to cover part of his face during the theft crime, it could be difficult for investigators to identify him.
Fortunately, no one present at the time of the Five Guys robbery sustained any injuries.
If police are eventually able to identify and arrest the suspect, he could potentially be charged with felonies for armed robbery, theft, and possession of a weapon for an unlawful purpose.
For more information about this case, check out the NJ.com article, "Cops Investigating Armed Robbery of Five Guys in East Hanover."