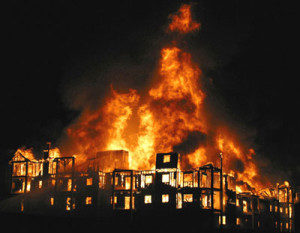 Police are investigating a fire that destroyed a home in Dover, New Jersey. Depending on the findings of investigators, it's possible that the fire could be classified as an act of arson.
The Dover Police Department received an emergency 911 call around 3:14 a.m. to report a fire at a house located at 40 Thompson Avenue in Dover, NJ. Police officers and firefighters were dispatched to the scene and saw flames coming from the residence when they arrived.
Fortunately, the three residents of the Dover home were able to escape before sustaining any serious injuries.
Although firefighters were able to stop the fire within half-an-hour, the residence was still considered uninhabitable. As a result, the residents were not allowed back inside the damaged property.
The Dover Police Department, the Dover Fire Department, and the Morris County Prosecutor's Office Arson Unit are investigating the fire. However, Dover Public Safety Director Daniel DeGroot issued a statement indicating that authorities do not consider the fire to be suspicious.
To learn more about this case, see the NJ.com article, "Residents Escape Overnight Fire That Left Home Uninhabitable."