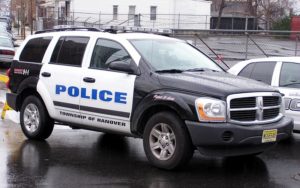 Police recently arrested a Hanover New Jersey man accused of committing numerous vehicle break-ins and thefts during the last 10 months.
The suspect is a 20-year-old resident of the Cedar Knolls area of Hanover Township, NJ. According to law enforcement officials, the suspect broke into at least 15 motor vehicles parked on streets in Hanover and stole various possessions and valuables.
The Hanover Township Police Department investigated the car burglaries and eventually identified the suspect as the possible culprit.
When Hanover detectives apprehended the suspect, he was allegedly in possession of certain items stolen from the motor vehicles.
Additionally, police officers allegedly found the suspect carrying drugs and drug paraphernalia when they took him into custody.
Hanover NJ detectives later interviewed the suspect at police headquarters. According to authorities, the suspect confessed to his crimes.
The suspect faces multiple criminal charges for burglary, theft of movable property, credit card theft, credit card fraud, receiving stolen property, simple possession of marijuana, and possession of drug paraphernalia.
To learn more about this case, read the NJ.com article, "Man Accused of Stealing from Cars in Hanover Over the Past 10 Months."