Theft Defense Lawyer in Parsippany NJ
Morris County NJ Criminal Defense Attorneys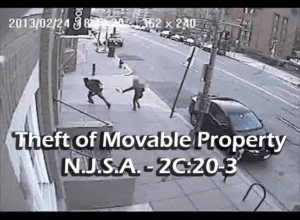 Theft of movable property in New Jersey falls under the category of "unlawful takings." The key distinction between movable property and immovable property is that movable property has no real location and is not fixed to any piece of land. Regardless of whether you've been charged with theft of movable property or theft immovable property, the consequences can be severe, including prison time and substantial fines.
The Tormey Law Firm is an experienced group of criminal defense lawyers who have extensive experience representing clients charged with theft and fraud offenses, including theft of movable property, receiving stolen property, and shoplifting in Dover, Mount Olive, Denville, and Morristown. Our firm's managing partner, Travis J. Tormey, has been featured in the Daily Record regarding several shoplifting cases he handled in Morris County. Another one of the firm's partners, Alissa D. Hascup, is a former Morris County Assistant Prosecutor, former Special Deputy Attorney General, and active Municipal Prosecutor.
The skilled criminal defense lawyers at the Tormey Law Firm are committed to helping you beat your theft charges. If you or a loved one is facing a theft charge in New Jersey, contact the Tormey Law Firm day or night at 866-949-6948 for a no-cost consultation about your case.
Theft of Movable Property in New Jersey
In New Jersey, N.J.S.A. 2C:20-3 governs theft of movable property charges. The statute stipulates that a person a person is guilty of theft if he or she unlawfully takes, or exercises unlawful control over, movable property belong to another person with the purpose to deprive that person of the property. One of the necessary elements of a theft of movable property charge is that the defendant did in fact exercise control over the property. However, the statute is often interpreted broadly by NJ prosecutors to encompass situations when a defendant does not actually take or move the property in question. For example, a person may be charged with car theft if he simply starts the ignition of the car.
Grading of Theft of Movable Property Offenses
Theft of Movable Property offenses in New Jersey are graded as follows:
Second Degree: $75,000 or more; punishable by five (5) to 10 years in NJ State Prison.
Third Degree: Amount between $500 and $75,000; punishable by three (3) to five (5) years in state prison.
Fourth Degree: Amount between $200 and $500; punishable by up to 18 months in state prison.
Disorderly Persons Offense: Amount less than $200; punishable by up to six (6) months in the county jail.
Second degree, third degree, and fourth degree criminal charges are indictable in nature and must be handled at the Superior Court in the county in which the alleged offense was committed. Disorderly persons charges will be handled in the local municipal court and will be heard before a judge as part of a bench trial. Since the penalties for a conviction can include serious prison time, it is imperative that you speak with an experienced criminal defense attorney at your earliest possible convenience.
Contact a Dover NJ Theft Defense Lawyer for Immediate Assistance 
Anyone can make a mistake. The important thing now is that you don't let one mistake ruin your life. A conviction for theft of movable property can send you to prison and it can tarnish your permanent record. Since theft in New Jersey is considered a crime of moral turpitude, a theft conviction can haunt you forever. An experienced theft crime defense lawyer can help you avoid the most serious penalties for theft charges in New Jersey.
If you or a loved one has been charged with theft of movable property or another criminal offense in Denville, Dover, Parsippany, Mount Olive, or Morristown, contact the Tormey Law Firm anytime at 866-949-6948 for a free consultation.