Boonton Man Faces DWI Charges for Reportedly Hitting Vehicles with Snow Plow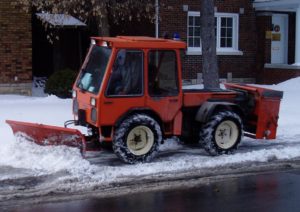 A Boonton man with a checkered past of drunk driving offenses has been charged with yet another DWI after he allegedly crashed a New Jersey Department of Transportation snow plow into two motor vehicles parked on the side of the road. The suspect is 36-year-old Roger S. Attieh. According authorities, Attieh was operating a snow plow and attempting to clear snow in Pequannock, NJ when he struck at least two cars. The Pequannock Police Department received a report of an auto accident at around 5:43 p.m. and dispatched officers to the scene. Police saw Attieh's snow plow near the first damaged vehicle and then reportedly observed him attempt to drive away and hit another parked vehicle.
Pequannock cops tracked down Attieh near the intersection of Boulevard and Route 23 in Pequannock. The arresting officers observed signs of intoxication and asked Attieh to perform field sobriety tests. When Attieh allegedly failed the field sobriety tests, Pequannock police placed him under arrest.
Penalties for Drunk Driving Violations in Pequannock, New Jersey
Attieh has been charged with Driving While Intoxicated (DWI) and DWI in a commercial motor vehicle. Attieh was also issued a traffic citation for reckless driving. The most serious charge, of course, is the DUI charges. DUI charges in New Jersey carry severe penalties that can include jail time, heavy fines, and license suspension. In some instances, a DWI charge can result in the offender being sentenced to jail time. That could be what happens in this case because Attieh reportedly has three prior DWI convictions on his driving record.
In addition to possibly being sentenced to jail time, Attieh's job with the NJ Department of Transportation may also be in jeopardy because he was operating a DOT snow plow at the time of his DWI arrest. A spokesperson for the NJDOT has already issued a statement about the incident and said that the DOT "takes these issues very seriously. As an NJDOT employee, Attieh may be subject to disciplinary action and could even lose his job.
Schedule a Free Consultation with an Experienced Pequannock DWI Defense Lawyer Today
Travis J. Tormey is a skilled criminal and DWI defense attorney who helps clients contest drunk driving charges in Pequannock, Parsippany-Troy Hills, Morristown, and everywhere else in Morris County, New Jersey. If you were arrested and charged with a DWI/DUI offense in NJ, Attorney Tormey can help you beat the charges and keep your driver's license. Contact him now to discuss your case.