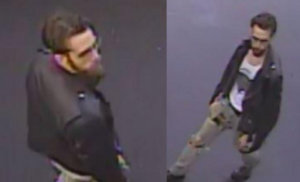 Police in East Hanover NJ are still searching for a man accused of stealing multiple vehicles last week. Now law enforcement is offering a $1K cash reward to anyone with useful information in the case.
The first theft incident occurred early in the morning on May 2, 2017. According to Morris County CrimeStoppers, the suspect stole a red 2006 Chrysler Town & Country van that had been parked in Boonton Township, New Jersey.
The suspect then allegedly drove the van to an East Hanover NJ business and stole a white 2005 GMC 5500 truck. The suspect reportedly abandoned the Chrysler van and drove off in the truck.
Sometime later, the suspect allegedly showed up in East Hanover NJ and stole a dark gray Toyota Camry.
The East Hanover Police Department and the Morris County Prosecutor's Office are actively investigating the auto thefts and trying to identify the suspect. Detectives obtained video surveillance footage that reportedly shows the suspect in the process of committing one of the car thefts.
If the suspect is identified and apprehended by law enforcement, he will likely face criminal charges for auto theft and theft of movable property.
For more information about this case, view the NJ.com article, "$1,000 Reward Offered for Info on Suspected Vehicle Thief."