Morris County Man Who Works at Hospital in Essex County, NJ Faces Criminal Charges for Lewd Conduct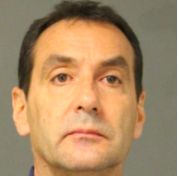 A Morristown, NJ man has been placed on leave from his executive position at an Essex County hospital after being arrested and charged with numerous sex crimes in Delaware.
The suspect is 57-year-old Gerald Picerno, who lives in Morristown NJ and who is reportedly the chief strategy officer at RWJBarnabas Health, a major medical center located in West Orange, New Jersey. According to law enforcement officials, Picerno has been charged with sex offenses after police in Delaware connected him to several incidents involving lewd behavior toward women on, or near, the University of Delaware campus. Three of those incidents reportedly occurred over a period of three hours on a single night in September, while another incident reportedly occurred at the beginning of October. Late on the night of September 15, Picerno allegedly placed a lewd letter on a chair outside a home located on South Chapel Street. A few hours later, Picerno allegedly approached a woman sitting in a car parked on the 100 block of East Main Street and began to masturbate. Then, less than 30 minutes after that incident, Picerno allegedly took off his clothes and walked toward two women in a parking lot on the 200 block of East Main Street. The fourth lewd incident occurred on October 15, with Picerno allegedly exposing his genitals to someone at the Roselle Center for the Arts on the University of Delaware campus.
Delaware police detectives investigated the alleged sex offenses and eventually identified Picerno as a suspect in the case. Investigators caught a break when they reportedly matched Picerno's fingerprints to the disturbing note that was left at the first home. Additionally, detectives reportedly obtained video surveillance footage that shows Picerno walking in the area of the University of Delaware campus around the time of the lewd acts.
Severe Consequences for a Sex Crime Conviction
Picerno has been charged with three counts of lewdness, five counts of indecent exposure, two counts of criminal trespass, and one count of harassment. Since the official police investigation into Picerno is active and ongoing, it is possible that he could face additional criminal charges. Although the charges have been filed in Delaware, the penalties for a conviction could have repercussions that affect Picerno in his home state of New Jersey as well.
Picerno is currently free on bail, having posted a $5,500 bond to secure his release from police custody. However, his troubles could be just beginning. In addition to facing very serious criminal charges in Delaware, Picerno's employment status in New Jersey has also been jeopardized by his alleged criminal misconduct. Shortly after Delaware authorities announced that Picerno had been placed under arrest and charged with multiple sex crimes, an RWJBarnabas spokesperson contacted the media via email and released a statement indicating that Picerno was being "placed on leave" while the criminal charges were pending. Additionally, it appears that the RWJBarnabas website has already removed Picerno's biography.
Talk to an Experienced Morris County, NJ Criminal Defense Lawyer Who Can Help You Fight Sex Crime Charges
The reality is that a sex crime conviction in New Jersey, or in another state, can leave a person with a stigma that follows them for the rest of their life. In fact, even the mere accusation of a sex crime can create personal problems and place a severe strain on the accused's family life, social relationships, and employment status. That's why it is so important for anyone who has been accused of a sex crime in NJ to have an experienced criminal defense attorney on their side throughout the legal process.
The Tormey Law Firm is a criminal defense team that has extensive experience handling these kinds of cases and that knows how to limit media exposure in your case. Contact us immediately to discuss your legal options and to start building your defense against sex offense charges in Morris County or anywhere else in New Jersey.