Madison NJ Expungement of a Municipal Ordinance Lawyer 
Clear Your Criminal Record in Morris County, New Jersey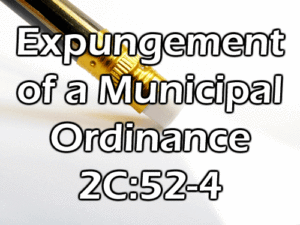 We understand what you're going through because arrests happen. It is not uncommon for seemingly harmless altercation to quickly escalate and lead to a municipal charge for disorderly conduct. That's why it is crucial that you hire a knowledgeable criminal defense attorney to ensure that your expungement application is submitted, argued, and resolved in a timely manner.
The skilled criminal defense lawyers at the Tormey Law Firm have years of experience representing clients charged with criminal offenses throughout New Jersey, including Denville, Mount Olive, Parsippany, and Morristown.
In fact, our founding partner, Travis J. Tormey, has successfully handled thousands of criminal cases in New Jersey in both Superior Court (felonies) and Municipal Court (disorderly persons/misdemeanors). Mr. Tormey previously worked at the United States Attorney's Office in a variety of areas, including the gang task force, sex crimes unit, and white collar crimes units. Another one of our partners, Alissa D. Hascup, served with the Morris County Prosecutor's Office, where she successfully represented the State of New Jersey at numerous trials, including attempted murder and aggravated assault cases. This experience gives us major insight into how the other side thinks and what arguments they will raise in your case.
The lawyers from the Tormey Law Firm appear in courts throughout Morris County on a daily basis. You can contact us anytime at 866-949-6948, or you can use the online contact form to schedule an appointment.
Expungement of a Municipal Ordinance in New Jersey 
An expungement of a municipal ordinance in New Jersey is governed by N.J.S.A. 2C:52-4, which provides, in pertinent part:
In all cases wherein a person has been found guilty of violating a municipal ordinance of any governmental entity of this State and who has not been convicted of any prior or subsequent crime, whether within this State or any other jurisdiction, and who has not been adjudged a disorderly person or petty disorderly person on more than two occasions, may, after the expiration of a period of 2 years from the date of his conviction, payment of fine, satisfactory completion of probation or release from incarceration, whichever is later, present a duly verified petition as provided in section 2C:52-7 herein to the Superior Court in the county in which the violation occurred praying that such conviction and all records and information pertaining thereto be expunged.
Expungement of Municipal Ordinance Violations in New Jersey
In order to expunge a municipal ordinance from your record, the following conditions must be met:
You have never been convicted of a crime
You have two (2) or fewer disorderly persons convictions on your record
Two (2) years have passed since the date of conviction, payment of fine, completion of probation, etc.
Contact a Dover NJ Expungement Attorney for Immediate Assistance 
If you are eligible based on the above requirements, you can file for an expungement to have these municipal ordinances removed from your record. Contact the Tormey Law Firm today, call us 24 hours a day at 866-949-6948, or use our online contact form to schedule an appointment and get your expungement started.